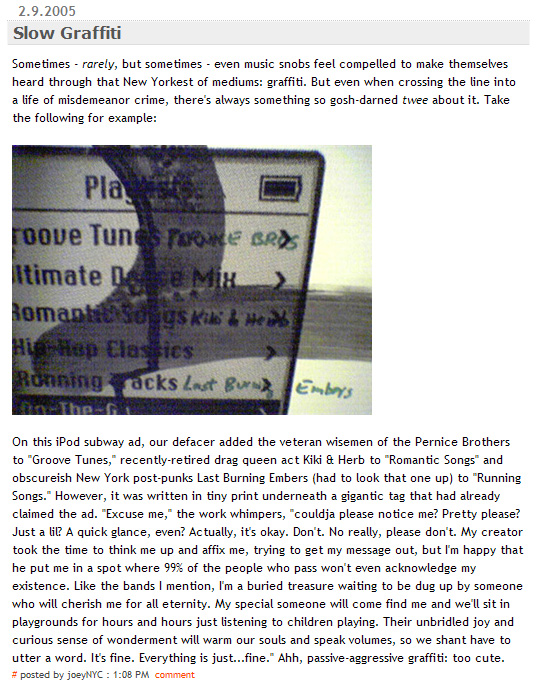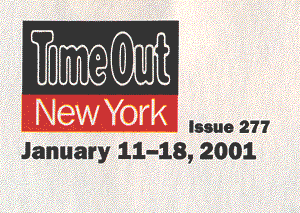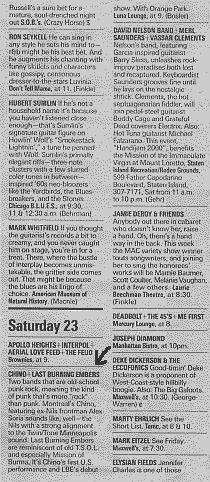 NEW YORK TIMES, June 7, 2002
A Crowd in Black Remembers an 'Honest' Musician
By JACOB H. FRIES

Sonia Sanchez, 27, remembers the very first time she heard the Ramones. It was years ago — she and a friend were the last two stragglers in a club in Spain — and the disc jockey let one of the band's records spin from start to finish.
"I just ran to the turntable and tried to see what it was," Ms. Sanchez recalled. "I said: `This is my thing. I've finally found my thing!' "
Ms. Sanchez moved to New York City three years ago and opened Wows Ville, a record store on Second Avenue near St. Marks Place devoted to the Ramones — the four-man band from Queens that defined the sound of punk rock, especially for its fans in the East Village. At her store yesterday, she and a group of friends gathered to remember the band's 50-year-old bassist and songwriter, Dee Dee Ramone, who was found dead Wednesday night in his Hollywood home from what the authorities said appeared to be a heroin overdose.
As news of his death spread, traffic in the store increased. They greeted newcomers with silent hugs. They chain-smoked cigarettes, shuffled their feet inside Converse low tops and talked about a man who spoke so directly, so honestly, about how they feel each day. The spontaneous gathering was one of a few throughout the city, as people remembered a musician and a pioneering band that changed rock 'n' roll and thrust the city onto the punk rock scene.
Hilly Kristal, 70, the owner of CBGB, the music club in the Bowery where the Ramones regularly played, said that even after 25 years, even as the neighborhood has gone through generations of change, their music continues to find an audience. On Tuesday, several bands with names like White Collar Crime and the Last Burning Embers had played a tribute concert, called "1977 and the Ramones to Russia Live."
"When you hear a Ramones song, you know it's Ramones," Mr. Kristal said. "You can't say that about bands like the Sex Pistols and the Clash."
Mr. Kristal recalled the days when he opened the club in 1973. On the second floor of the building was one of the city's largest flophouses. From his front door, he saw boarded up windows and a strip of bars that drew lines of rough-looking people at 8 a.m. The hardscrabble block also drew a lot of artists, including Andy Warhol and Joey Ramone, the band's singer, who died last spring.
"There was an energy," Mr. Kristal said. "Now it's getting civilized."
Wallis Meza, 21, who lives in the Lower East Side, went to Wows Ville yesterday to be with friends, with people who worship the same words she does. Dressed in the standard-issue leather jacket and a faded black T-shirt, she talked about Mr. Ramone as though he were a hip big brother who gave the best advice.
Her favorite bit of Dee Dee Ramone wisdom, from the song "Poison Heart": "I just wanna walk right out of this world because everybody's got a poison heart."
"It's simple, but it was perfect," she said. "Everyone can relate."
Ms. Meza said the band continues, and will continue, to speak to people, young and old. Just a few days ago, she saw a little girl with a stick-on tattoo of Joey Ramone's head.
Almost as powerful as his music, these fans said, was Mr. Ramone's attitude, which was rooted in the belief he could do anything. They talked about the band's recent induction into the Rock and Roll Hall of Fame and laughed at Dee Dee Ramone's acceptance speech. "I'd like to congratulate myself, and thank myself, and give myself a big pat on the back," these fans said, quoting it.
"That's what he teaches, he doesn't care, because he does it his way," said Ms. Sanchez, the store owner.
Johnnie, a self-described middle-aged punk rocker who would not give a last name, said he feared that today's pop music was as processed as a McDonald's hamburger. The punk edge has been rounded off, he said.
"I'm sure it will surface again," Johnnie said, standing outside CBGB, unable to take his eyes from the three candles lighted to honor the passing of the rock legend. "Just as soon as the kids today get off their computers and video games, and get back in the real world."