2018
Some old news is archived below. A new site is forthcoming. Meanwhile, here are a few links to various projects with whom LBE's David Burokas has been playing over the past several years, some one-off, others for lengthier tours.
Bassist for NYC mod-punks EDP:
Live at Southpaw: https://youtu.be/gnXuNt8AZuw
Guitarist for British anarcho-punk legends Zounds:
Live at the Knitting Factory: https://youtu.be/FBLeh0nzAIQ
Live on WFMU: https://www.wfmu.org/playlists/shows/42378
Bassist and guitarist for NYC shoegazers Springhouse:
Live at Southpaw: https://youtu.be/Aq8vYCa6E0I
Live at Southpaw: https://youtu.be/jwzlQFIvc6A
Bassist for Steve Drewett of British punk legends Newtown Neurotics:
Live at the Bell House: https://youtu.be/h-tAOFuf7gE
More that need uploading, including backing stints with TV Smith of the Adverts and Adam Franklin of Swervedriver.
June 1, 2008
Though the LBE camp has been dormant, LBE's David Burokas has been busy on the music front. His other outfit, EDP, released their debut full-length CD, NEXT STOP: BLEAKER STREET, in late 2007, on LBE's Pink Frost/ Big Takeover label, and have been playing east coast dates, with more gigs on the horizon this summer.
On another note, the Non-Linear Thinkers are a group of high school kids under the tutelage of David Burokas at the Newark, NJ, high school where he teaches. They're a band who cover some of the best punk and post-punk from the halcyon 75-85 era. They start as novices, but they quickly coalesce into a rousing rock band. The latest incarnation has released a full-length CD entitled SCHOOLIN' THE ROCK SCHOOL on Pink Frost/ Big Takeover Records, and it's garnering much acclaim for its youthful enthusiasm and bravado. It's available at the BIG TAKEOVER store, so pick one up to hear the real school of rock, not the imposters with the big money behind them. The band is playing gigs in the NYC area, so check out their Myspace page for information and MP3's.
And for those who are frequent visitors of the aforementioned Myspace, LBE now have a page, and they would welcome your addition as a friend. The address is of course www.myspace.com/lastburningembers. Please drop by.
September 1, 2006
Despite rumors to the contrary, LBE have most certainly not called it a day. We have been dormant for the past year due to numerous factors: commitments to other projects, a search for a new bassist and second guitarist (still pending), and life's bureaucracy. Nonetheless, much new material has been written, though it has not been worked out with a full-band format yet. The Phoenix will rise again shortly, so drop a line to be notified of news.
July 31, 2005
LESSONS IN REDEMPTION MAKES TWO YEAR-END LISTS
We're happy to report that Last Burning Embers' latest CD, LESSONS IN REDEMPTION, made a few end-of-year lists after garnering fine reviews from several reputable magazines and web sites. See the press page for more info.
On another note, thanks to all who supported Pink Frost Records for our bill with Doug Gillard at Southpaw. We're looking to begin recording a new CD before 2006 commences. The new songs (so far fourteen) are stylistically somewhat different from LESSONS IN REDEMPTION, but the energy and urgency are still present. Some might say there's a balance between minimalism and lushness at times.
Oh yeah, one more thing: LBE have been appearing around town as graffiti on subway ads for a famous MP3 player--would that we had a share of the gadgets profits (see the miscellaneous press page)!
June 8,2005
Last Burning Embers will again surface at Southpaw in Brooklyn (after a rousing success there in March opening for New Model Army) on Saturday, June 18, opening for Pink Frost Records labelmate and ex-Guided By Voices guitarist Doug Gillard. It's an early show, only two acts. The club is easily one of the best in the city, so hanging out there is a pleasure.
March 5, 2005
Last Burning Embers will be opening for the phenomenal New Model Army for two dates. The first will be this coming Thursday, March 10, 2005, at Southpaw in Brooklyn. Also on the bill is World Inferno Friendship Society. LBE take the stage as first band around 8:30. The second appearance will be as sole openers for NMA at Maxwell's in Hoboken on Friday, March 11, 2005. LBE will hit the stage for a lengthier set sometime after 9:30. These are LBE's first shows since the release of LESSONS IN REDEMPTION and NMA's first full-band shows in the US in several years--they are not to be missed, easily one of the finest outfits of the past three decades and certainly one of our favorites here. Advance tickets are available--see the clubs' web sites for details. Please support vital, intelligent rock music in these days of a co-opted "underground".
December 20, 2004
THE NEW LBE CD, LESSONS IN REDEMPTION, IS NOW AVAILABLE; LIVE SHOWS IN SUPPORT AFTER THE NEW YEAR!
Reviews keep pouring in (see the PRESS page for the full texts):
"stunningly passionate...really memorable...personally gripping..." JERSEY BEAT
"Too tightly wound to be carefree pop, but too tuneful to be avant rock, Last Burning Embers embodies the balance required to keep faith in a faithless universe." HIGH BIAS
"...lyrically-intense but uniformly catchy...file LESSONS IN REDEMPTION under 'Uneasy Listening'." AMPLIFIER
"LBE brings to the table an uncommon intelligence and a knack for lodging killer pop melodies within hi-nrg punk frameworks..." RASPUTIN MANIFESTO/ RED FLAG MEDIA/ ZIA ZINE
The new LBE full-length CD, LESSONS IN REDEMPTION, has been released on Pink Frost/Big Takeover Records. It should be available in all respectable outlets throughout the country and of course online directly from the PINK FROST/BIG TAKEOVER RECORDS STORE and various other vendors (Amazon, Tower Records, Barnes and Noble, Best Buy, CD Universe, you name it!). If you can't find it and do not wish to purchase it online, request that your local music store order it directly from Redeye Distribution, the exclusive source. It's also available for purchase online to download to the I-Pod or other MP3 device from emusic.com as well as other sources. It's nearly an hour of music over 12 songs and the product of much painstaking effort at Excello Studios in Brooklyn with the help of ace engineers Jason Marcucci and Bruce Hathaway. The song listing is as follows (N.B. CLICK THE LINKS FOR MP3'S OF THREE COMPLETE SONGS FOR A SOLID PREVIEW! THE SAMPLING RATE IS RATHER LOW IN ORDER TO KEEP THE DOWNLOAD TIMES REASONABLE--KEEP IN MIND THAT THE ACTUAL CD VERSIONS ARE FAR MORE DYNAMIC AND OF MUCH BETTER QUALITY.):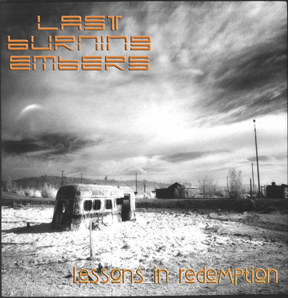 1. Distress Call (a completely new version, far different from the EP); 2. The Vacillator; 3. Someone I Used To Know; 4. No Good Deed; 5. Columbus Day; 6. Culture Wars; 7. Nothing Left To Lose; 8. An Open Letter; 9. Today; 10. Charmed Existence; 11. Theodicy; 12. Phoenix
September 5, 2004
A limited-edition split-single with ace Washington, DC, outfit The Factory Incident will be out any day now on Postfact Records--artwork pictured here. It will feature "The Vacillator" by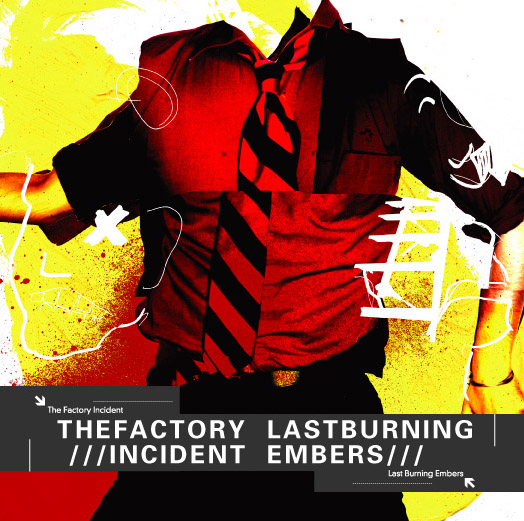 LBE, and, yes, it is on vinyl, still a superior medium to some in the LBE camp, especially for beholding the nifty cover art. For those who have given up on analog, we recommend dusting off the old gramophone and giving the new single a spin. You'll need to find a genuinely hip record store to purchase it, and, once again, contacting the label directly is your best bet. The next two months will see rapid developments here, so check back regularly for news and information.
June 17, 2004
Two pieces of news:
First, Last Burning Embers are playing their second gig in 17 months this Friday night, June 18, 2004,at new club Plaid, 76 East 13th St. at 4th Ave in the East Village in Manhattan. Admission is FREE for those who email the New York Underbelly e-mail address (rsvp@newyorkunderbelly.com--or you can do it at www.newyorkunderbelly.com), with an OPEN BAR for one hour (9-10) as well! LBE will be sharing the stage with Kenny Chambers, formerly of Boston favorites Moving Targets as well as Bullet Lavolta, in his new band American Pulverizer, as well as local band Johnny Black celebrating their CD release party of their new LP--produced by noted Ramones producer Daniel Rey, and featuring two duets with Walter Lure of Johnny Thunders and the Heartbreakers, including the Heartbreakers' "Born to Lose." American Pulverizer take the stage at 9 P.M., and Last Burning Embers follow at 9:45, with Johnny Black finishing at 10:45. For more info on the night, see www.newyorkunderbelly.com . or you can call Plaid at (212) 677-5772 .
Second, with the release of the new LBE LP imminent, a split-single with Washington DC's Factory Incident will be released in the summer featuring "The Vacillator" by LBE. It will a limited edition on Postfact Records, so be sure to check back soon. As usual, MP3 previews are available on the "Sounds" page.
February 28, 2004
After nearly a year's vacation due to commitments elsewhere, Last Burning Embers has returned with a vengeance. Thomas Burke, to whom the band will always be indebted, is no longer playing bass for LBE due to international journeys. However, if all goes well, he will continue to work with David Burokas on the bass parts for all of the new material currently in the works. Moreover, the new LBE record looks like it will finally see a release date in early summer 2004, with live dates to follow. To mark all of these exciting developments, the web site has been slightly redesigned. Check back soon.
February 16, 2004
BIG NEWS HERE! Last Burning Embers finally will be resurfacing on the live circuit this Thursday, February 19, 2004, at a brand new club in the Red Hook section of Brooklyn called The Hook. They'll be opening for legendary Connecticut outfit 76% Uncertain and Happy Ending. LBE hit the stage around 9:00. The club looks terrific, and a perusal of their web site, linked above, is essential. More details and a major update to this site will be forthcoming, since 2004 is shaping up to be a major year for LBE, with the new LP finally slated for release in early summer. Check back soon, and we hope to see you on Thursday.
January 28, 2004
There unfortunately was no Christmas party this year due to other major commitments for Last Burning Embers. Nonetheless, the band will most definitely reappear on the live circuit very shortly. In the meantime, a lengthy interview with David Burokas and Jack Rabid has been published in DAGGER fanzine from Portland, OR, a verbose treatise on the band's philosophy about underground rock and other myriad concerns. Click on the link to get ordering information. DAGGER has been publishing for well over a decade and embodies the true creative spirit of the underground. Each issue is loaded with interviews, reviews, and the like, without the excess trivialities that plague other music mags.
January 10, 2003
The show at Don Hill's postponed from December 6 has been rescheduled for January 22, 2003. Last Burning Embers will be supporting Dave Smalley of Dag Nasty and Down By Law fame (see November 27 posting below for more details) and will hit the stage at 8:45.
December 23, 2002
LBE would like to thank all who attended the December 21 party at Giorgio Gomelsky's, especially those who worked. It was an incredible time for all, and we feel it was LBE's finest performance to date. The Swervedriver set with Adam Franklin was particularly incendiary and intense, as was Adam's solo set. Both Factory Incident and EDP were superb as well--there wasn't a song all night that lacked the spirit of vital, passionate rock 'n roll, and it's an event like this that reminds us why we love underground rock so much, especially in these days of such meager quality music, even in the indie scene. We'll post photos soon. Merry Christmas and Happy New Year to all, and we look forward to seeing you at our next party or gig. We'd also like to know if there is anyone else who photographed the party. If so, please get in touch with us here via e-mail at the link posted at the bottom of this page. Thanks!
December 14, 2002
URGENT NOTICE: IN ORDER TO ATTEND THE DECEMBER 12 BIG TAKEOVER/LAST BURNING EMBERS CHRISTMAS PARTY (SEE BELOW), YOU MUST BE ON THE MAILING LIST OF EITHER LAST BURNING EMBERS OR THE BIG TAKEOVER AND HAVE RECEIVED AN INVITATION. THE PARTY IS INVITATION-ONLY, AND WE REGRET THAT WE CANNOT ACCOMMODATE A LARGE ATTENDANCE DUE TO A SMALL VENUE.
December 12, 2002
ALERT: The Don Hill's show was postponed, but Last Burning Embers are very excited about throwing yet another Christmas party at Giorgio Gomelsky's place. The band will be joined on the bill by Adam Franklin, of the superb Swervedriver and Toshack Highway, who will perform an acoustic set and will then be backed by LBE for several full-throttle Swervedriver songs. Furthermore, excellent Washington, DC, postpunk outfit The Factory Incident, featuring John "Stabb" Schroeder, he of legendary Government Issue fame, will also be sharing the stage, making this a truly stalwart line-up. Rounding out the bill will be NYC mod-power-poppers EDP. The date for this festive juggernaut is Saturday, December 21, 2002, and it is invitation-only. The location is 140 West 24th Street, between 6th and 7th Avenues, in Manhattan, starting at 7 P.M. As last year, admission will be a dirt-cheap $4, beer will be $2, and mixed drinks will be $3. This party is not open to the public, so you must be on the Last Burning Embers/BIG TAKEOVER mailing list to attend.
November 27, 2002
MARK THE CALENDARS AGAIN: We've been rather inactive here of late due to the demands autumn has brought upon us, but LBE are set to get back in action for the holiday season, starting with a gig on Friday, December 6, 2002, at Don Hill's, 511 Greenwich St., corner of Spring St., Manhattan (think lower West Village), opening for punk stalwart Dave Smalley, he of Down By Law and Dag Nasty fame. Next will be our annual Christmas party/gig on Saturday night, December 21, 2002. It promises to be an even bigger blowout than last year's, which featured four ace indie rock outfits along with ridiculously cheap admission and booze. This year will be a similar situation, and, although it hasn't been fully confirmed yet, LBE will share the bill with special guests with whom many are undoubtedly familiar. We'll have better details about this in the coming week or so, but in the meantime, make a note of it on your day planner, calendar, or (for the more technocratic) Palm Pilot.
September 16, 2002
EXTRA, EXTRA! Last Burning Embers will not only be opening for Gene at the Bowery Ballroom on Tuesday, September 17, 2002, but also at Maxwell's in Hoboken on Wednesday, September 18, 2002. Tickets are still available, and both shows start at 8:00 for early risers, so we hope to see you there. See Gene's web site at www.gene.co.uk for further details. LBE are honored to support this terrific outfit.
August 30, 2002
Welcome to the newly redesigned LAST BURNING EMBERS site. It is our hope that the new format is more visually pleasing, organized, informative, and easier to navigate. There are a few new features on the site as well as numerous new photos, and, perhaps most importantly, new MP3's of songs fully completed for the new LP on the "Sounds" page--do not miss! We'd appreciate some feedback.
Summertime is vacation-time for LBE, but the band is still hard at work. Their next gig is on Tuesday, September 17, 2002, at the Bowery Ballroom, opening for Gene, the superb British outfit. The club is located at 6 Delancey Street in Manhattan. See the club's web site for further information. Details about other fall/winter parties and gigs will soon follow. In the meantime, keep requesting LBE from your local quality college radio station.
The gigs with TV Smith were great fun for all involved. At the Maxwell's show, TV and LBE were joined on stage by Buzzcocks' Tony Barber for a rollicking time. Photos now appear on the images page.
The new LP is completed, and LBE are now searching for a suitable label. It will be 11 cuts, superbly engineered by Bruce Hathaway and Jason Marcucci at Excello Recording Studio, Brooklyn. Indeed, it was a sheer pleasure to record there, and LBE are enormously proud of the finished product. It's a literate, diverse record, focused yet wide-ranging, displaying the myriad influences on the band while offering solid lyrical content.
July 5, 2002
GIG ALERT: LBE will be the backing band for punk legend TV Smith of the Adverts for two upcoming shows. The first will be Saturday, July 6, at Arlene Grocery in the East Village. The band will back TV up for several numbers, including Adverts material, and will later return to the stage for a set of their own, something they really haven't done since before the recording of their new LP--thus the performance should be tight, featuring perhaps a fair bit of new material. The second appearance will be Sunday, July 7, at Maxwell's in Hoboken, though there will be no LBE set at this show.
LBE were briefly mentioned in the NEW YORK TIMES in an article on the late Dee Dee Ramone after doing a tribute show on June 4 at CBGB's, performing songs from the Ramones' ROCKET TO RUSSIA LP. See the "Embers in the Press" page for the article.
Things have also been busy with the band members' other projects. Guitarist/vocalist David Burokas has been gigging with EDP, the infectious mod-punk/power-pop outfit for which he plays busy bass. The band appeared at Manitoba's in the East Village on Monday, June, 17, and they will be appearing again for two Brooklyn dates. The first is this coming Monday, July 1, at Great Lakes in Park Slope. The band hits the stage at 9:00. The second will be on Saturday, July 13, at the newest indie rock venue in NYC, Southpaw, 125 5th Ave. (between St. Johnís & Sterling), Park Slope, 718-230-0236.
Drummer Jack Rabid played two stellar sets with his first band from the early 80's NYC punk scene, Even Worse, for the 20th Anniversary NY Thrash reunion at CBGB's on June 21 and 22. The nights were well attended and entirely memorable with not only great performances from Even Worse but also from Kraut, False Prophets, Adrenalin OD, Nihilistics, and the Mob. Ah, the memories...
And to tap it all off, Burokas and Rabid, along with second Even Worse bassist Nick Marden and Steve Wishnia of False Prophets, put together a band on Monday, June 24, at 7:00 PM to play a set of punk covers at Manitoba's in the East Village at 9:00 PM. It was the ultimate in punk rock spontaneity and loads of fun.
Photos from the above gigs will appear here soon.